MINAKI & NORTHWEST ONTARIO'S BEST FISHING RESORT
Geographically we are centrally located to the midwest, a short drive north of Kenora in Northwest Ontario. Our Sunset Point Fishing Resort is a short drive away;
just 2.5 hours from International Falls, in Minnesota.
MINAKI IS NORTHWEST ONTARIO'S BEST FISHING LOCATION
Our guests return annually to experience the best fishing Northwest Ontario has to offer; as the Winnipeg River System is the premier sport fishing facility for all the four major categories (Muskie, Walleye, Northern Pike and Bass).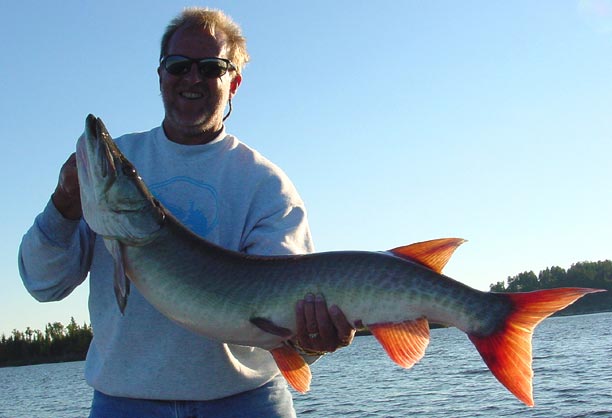 HAVE TWO THINGS IN COMMON:
They are situated on large bodies of navigable lakes & rivers which offer a wide variety of structures as well as COOL, CLEAN AND CLEAR PRISTINE WATERS
THAT ARE ABLE TO SUSTAIN
A wide variety of active Trophy Fish.
This allows very SEASONED FISHERMEN & ROOKIES alike
To fully enjoy their outdoor adventures.
Minaki is such a place.
Minaki is where the…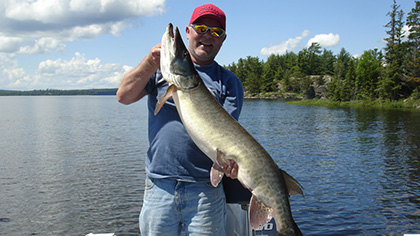 Where vacations begin and end… ON THE WATER.
Where Rock, Small and Largemouth Bass, Perch, Crappie, Walleye, Northern Pike and our BIGGEST PREDATOR, the GIANT MUSKIES are all on the menu and easily available for those so inclined.
BEST WALLEYE FISHING MINAKI, ONTARIO
BEST WALLEYE FISHING MINAKI, ONTARIO
Every walleye fishery is unique and presents its own challenges and opportunities. Joel Paffrath has been coming to Sunset Point and landing monster walleye in the Minaki area lakes and Winnipeg River System for over 37 years. Over that time he has learned from the best – the native residents who call Minaki home.
In the videos below, Joel shares his time tested techniques for great fishing in the Minaki and Lake of the Woods region.

Special thanks to Ken Stunnel for the following tips and techniques for catching trophy Walleye, Muskie, Bass and Northern Pike.
LINDY RIG FISHING FOR WALLEYE
The Rig: Spinning rod 6 ½ ft. M with upscale reel, spool 8 lb. test Berkley XT mono line, Rock Runner ½ oz. sinker or ¾ oz, ball bearing snap swivel, 3 ft. leader (tie own) Berkley Vanish 6 lb. test, small bead, #2 wide gap circle hook by Gamakatsu. Technique: Locate walleye / Determine depth (toss marker buoy for reference if needed)/ bait up with leeches, whole crawlers or large minnows / Fish fairly close to VERTICAL (Boat Driver HOLD YOUR DEPTH) / Touch bottom and reel up 2 – 3 turns and repeat this bottom touch frequently, stand and square up to bite when you feel the slightest tap / DO NOT PULL AWAY, Walleye bite is a slow step-like pulldown – wait…wait…reel up slack slowly and feel bend in the rod tip before hook set. Ka-Boom!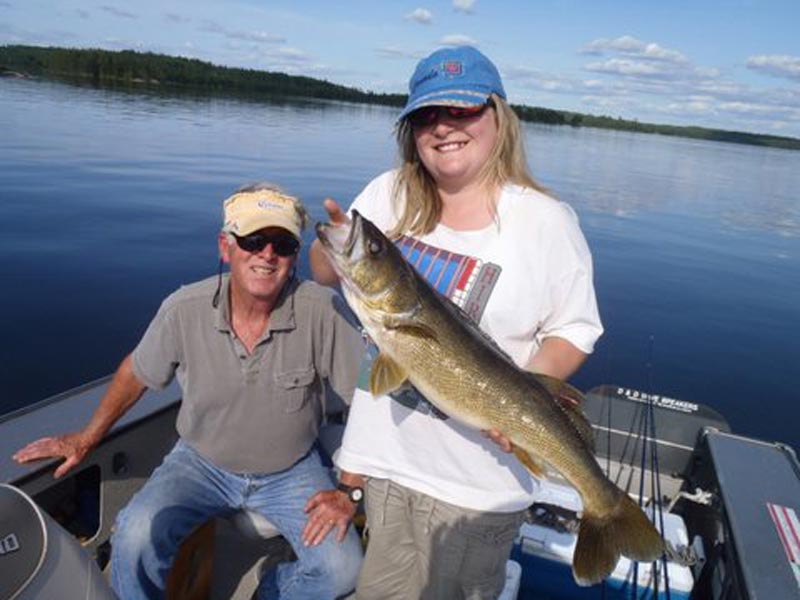 SLIP-BOBBER FISHING FOR WALLEYE:
Google up Slip-Bobber Fishing Walleye. See Slip-Bobber Set-Up 101 for an excellent sequence of tackle preparation. This is a very effective strategy: highly successful, will fish ANY depth, lip hooks the fish for easy release (use 1/16 oz. Jig-Bug plus leech), recommend using 7 ft. spinning rod M. METHOD: Attach a weighted clamp-on to Jig-Bug hook, sink rig to bottom, position bobber stop on line, reel up clamped-on weight 12 inches off the bottom, readjust bobber stop, reel up and remove clamp. Ready to fish…Boat Driver must maintain depth or else anchor off on preferred spot.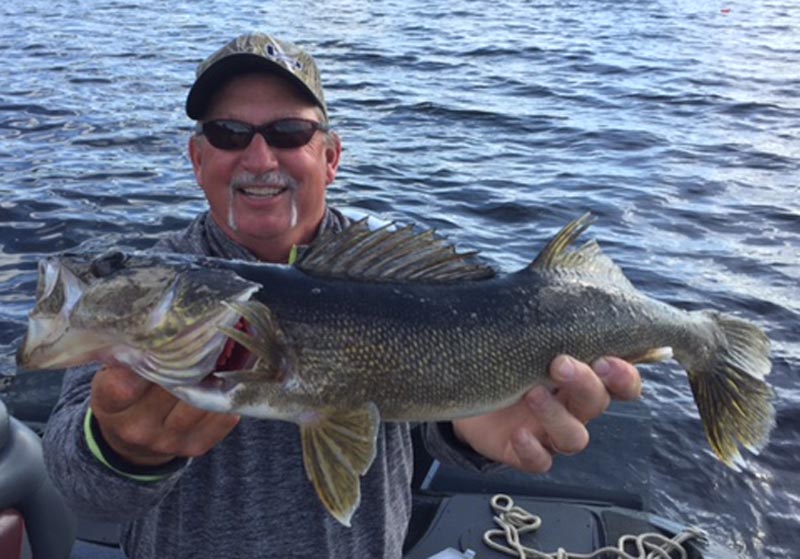 Click Below to Purchase Your Fishing License

TROLLING FOR WALLEYE
The Rig: Lindy Little Joe True-Spin rig with #2 or #3 Indiana Blade silver or gold (has beads but no hook), Attach a #2 or #4 Tru-Turn Hook (has a long shank). Lip hook minnow, leech or soft plastic 5" fluke or shad for proper tracking (no dough-nut or twisting).
Unweighted Trolling: Recommend longer spinning rod up to 8 ½ feet / Shallow Troll over 2 to 4 feet depth contours from opening day to mid-June, 40 to 50 feet behind boat at 1 mph speed. Find shallow backwater areas off the main lake or else between islands.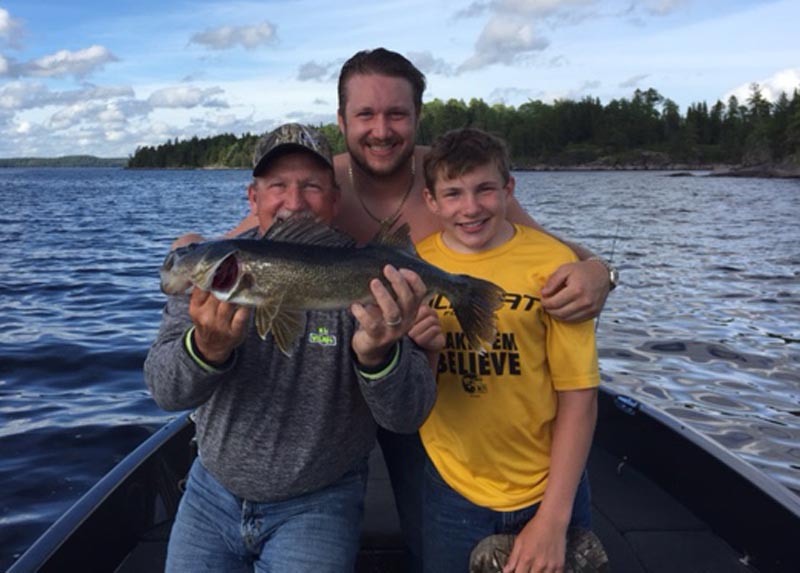 Weighted Trolling (Bottom Bouncing Depth Contours):
Recommend shorter spinning rod to 5 ½ feet / Determine deeper troll contours from 10 to 21 to 35 feet with weights ranging from one and a half oz. to 2 oz. to 3 oz. depending upon fish location, current if any, and uniformity of the contour depth you are running at one-mile-per hour speed.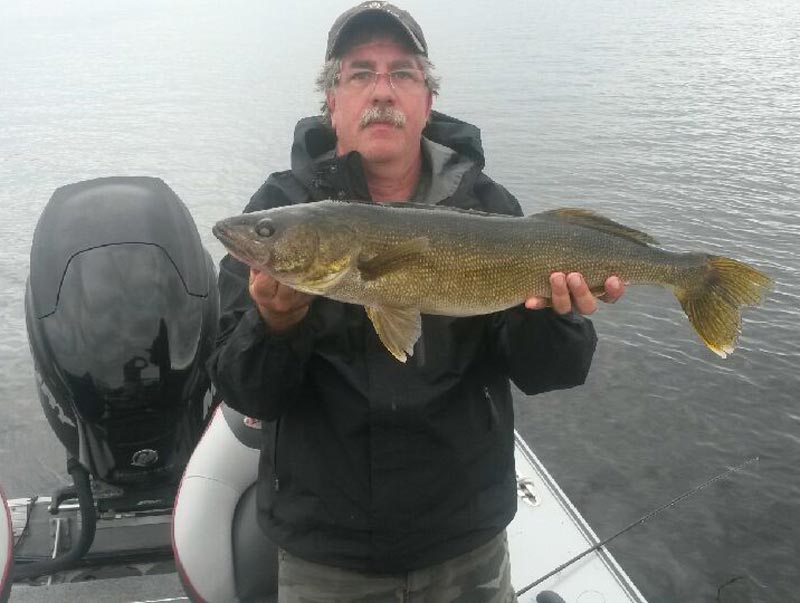 Rig and Technique:
Tie a ball-bearing snap swivel unto the end of your line 2) Tie 3 feet of 8 ib. Test mono line to your True-Spin rig and the other end to a 3-way swivel. 3) Tie a 4 inch length of light mono to your weight (Bell) and add a small snap to the other end. 4) Ready to Go: Snap on the rig to your ball-bearing line swivel and then snap on your weight to the bottom of the 3-way. Must feel the bottom and lift off…feel the bottom and lift off…as the boat is steered along the contour. Your line should angle off the boat at around 45 degrees. Stand up to facilitate this technique.
Long-Line Trolling Over Contours and Open Water:
Long rod to 9 ½ feet, bait casting line-counter reel, lead core line (six colors at 5 ft. depth per color) and use 10 lb. and 3 to 4 ft. leader, run where you find the fish on 30 to 35 foot contours, 1 to 2 mph, rod holder optional, ALSO, find baitfish schools at 30 to 35 ft. over deeper off-shore open water areas and maintain your troll. Use Lindy Shad River Rockers, Shadlings, Luhr-Jensen Hot Lips Express, Flatfish tipped with crawlers, Storm Bait Thundersticks.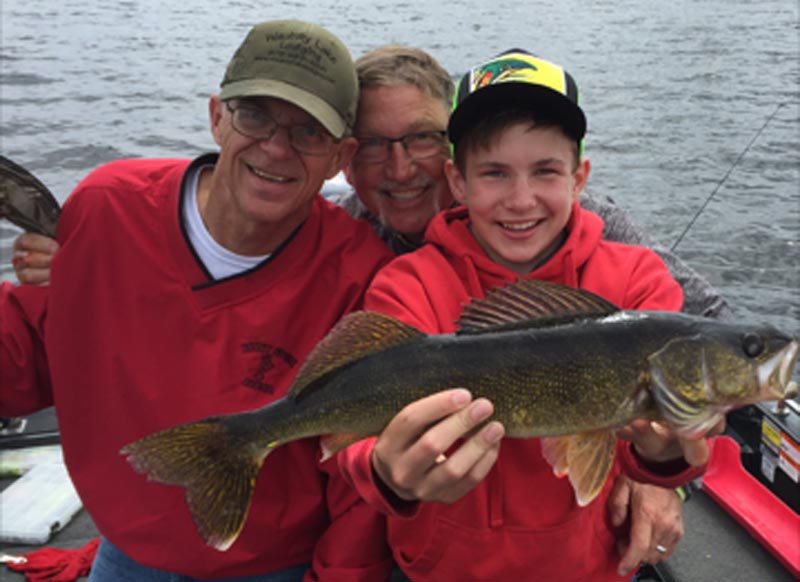 CASTING FOR WALLEYE:
Recommend 6 ½ foot M rod, spinning or casting with upscale reel, 10 lb Test flurocarbon Line.
Shallow 2 to 10 feet (May – June): Crankbaits: Shad Rap #7, Smithwick Suspending Rattlin' Rogue, or other shallow running choices such as X-Raps. NOTE: Because northern pike, and even muskie will get in the way – use 6"- 30lb. titanium leader.
Spinners & Swim Baits: Mepps or Blue Fox 3's and 4's, tube jigs 1/8oz., Boss Swim Shads.
Mid-Range depth 10 to 20 feet (late June – September): 1/4 to 1/2 oz. jig with leech or minnow, deep divers such as Luhr-Jensen Hot Lips Express OR Reef Runners OR Hot N' Tots.
WALLEYE RELEASE:
Use surgical instrument when removing deep set hooks – go up through gill rather than reaching down through mouth.
Season Open Saturday May 19 through December 31

MINAKI'S BEST MUSKIE FISHING
MINAKI'S SECRETS TO CATCHING TROPHY MUSKIE
CASTING FOR MUSKIE
Do not forsake all your accumulated lures and tackle, but there are some exciting game plans to add. Besides giving plenty of time to twin-bladed #10's and #13's Cowgirls, also feature Phantom Soft-Tail Jerk Baits . Be sure to allow much time for Mag Dawgs (Pounders) large rubber baits, Chaos Tackle's "Medusa" – all are hugely effective with a pull-pause retrieve.
Purchase an 8 foot 3 inch Monster Magnum Musky Innovations rod OR a 9 foot Big Nasty St. Croix rod (long handles) with either a Shimano Calcutta TE OR a Shimano Tranx PG reel, spool with 100 lb. braided line. Now you can toss the big bladed bucktails and pounders with ease plus work the new vertical Jigging Lures.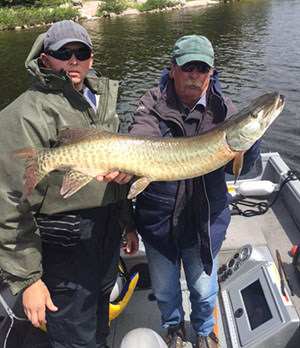 VERTICAL JIGGING
(Highly recommended):
Picking out muskie hunters Jon Bondy (see U-Tube Video, Jon Bondy Baits), Tony Grant and Spencer Berman, this approach presents deeper at whatever depth you think the fish are holding 100% of the time. Consider greater depth, say 18 feet. Use more during mid-day periods.
Fish 4-foot vertical rips at variable depths with a 36 inch trolling leader and a 9 foot rod.
Presentations: Shadzilla, HeliDawg, Rippin' Dawg, Jon Bondy Bait plus Red October tubes.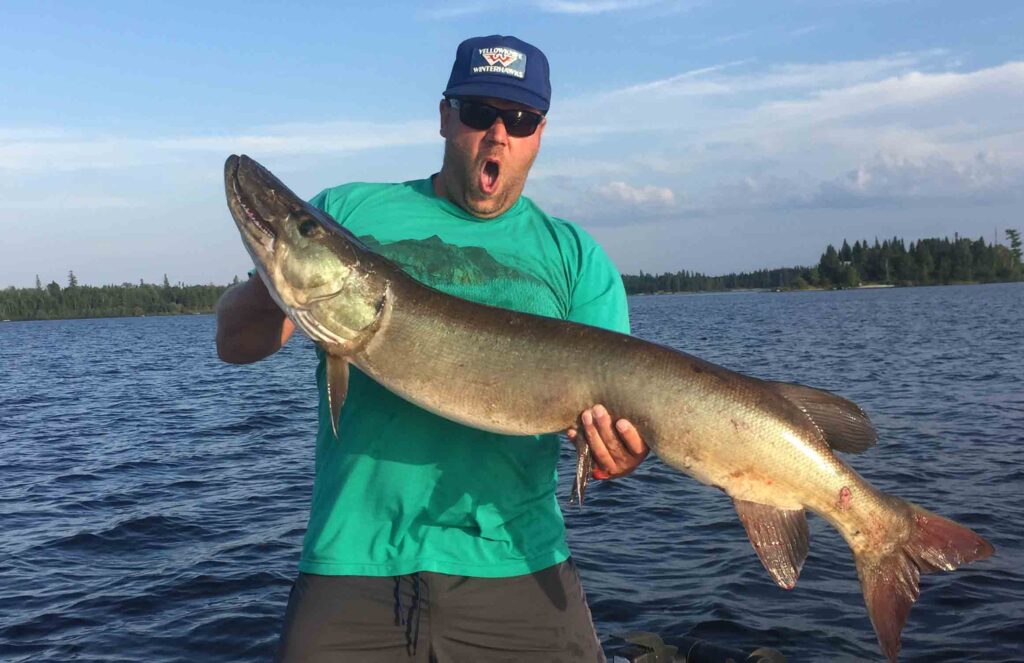 Click Below to Purchase Your Fishing License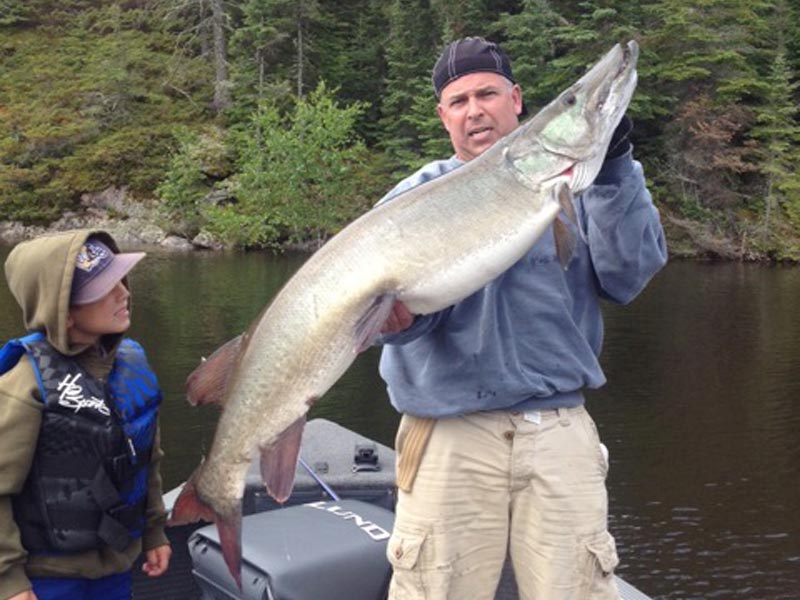 SURFACING TOPWATERS
Bait casting or spinning rigs represent individual preference. Go expensive on the reel. Rods can be less expensive and long ML, and line is again preferential but light test fluorocarbon is worth debating.
Wisdom Of Use: best bet for monster muskies / best percentage throwback lure / fish SLOWER than other lures / retrieve in a straight line / fishes difficult structure and cover areas better than other baits / more use of in late day.
Presentations: Whopper Plopper, Big Mama Dirdy B, Twis'td Sis'tr, Globe, Hawg Wobbler.
NOTE: Must use a light buoyant leader, foot-long 100 to 150 lb. test fluorocarbon, either tying it directly to the lure or else a smaller snap to avoid weighing down the nose of the lure.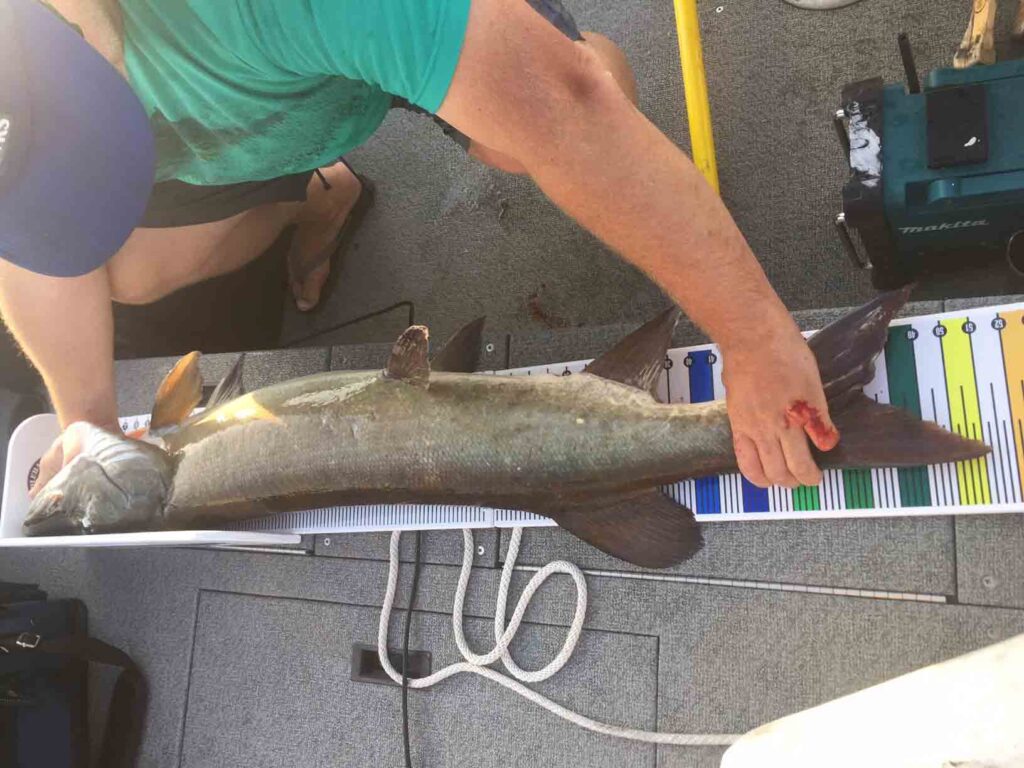 TROLLING THE PROPWASH
(5 MILES AN HOUR): (highly recommended) Drop a big crankbait into the prop wash – trolling depth 3 to 12 ft., let out only 3 to 10 ft. of line, lure running almost under the propeller. NOTE: noise does NOT spook muskie. In fact the commotion and noise of the boat's prop is an attractor. Fall fishing – station bait farther back and deeper.
Season Open from Saturday June 16 through December 15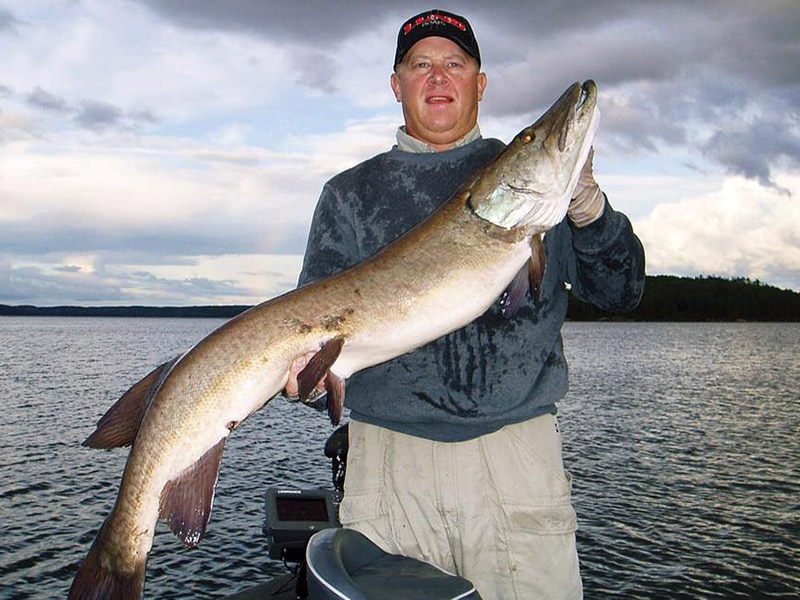 MINAKI'S BEST NORTHERN PIKE FISHING TIPS
MINAKI'S SECRETS TO CATCHING TROPHY NORTHERN PIKE
TACKLE
Combo rod & reel similar to the above recommendation for muskie – ST. CROIX AVID 300A reel and 8' rod or longer.Spool Power Pro 80lb – 65lb braid or lighter (choice), Stealth 12" fluorocarbon leader.

LURES:
Colorful in-line Bucktails (choice) OR Blue Fox #6 (plain) and # 4 and #5 Blue Fox or Mepps (skirted) OR Spinnerbaits such as Fudally "Musky Candy Spin", OR medium size Topwaters&Crankbaits OR large Spoons OR Jigs tipped with tubes, grubs, shads, flukes, critters, or Uncle Josh "musky Strips."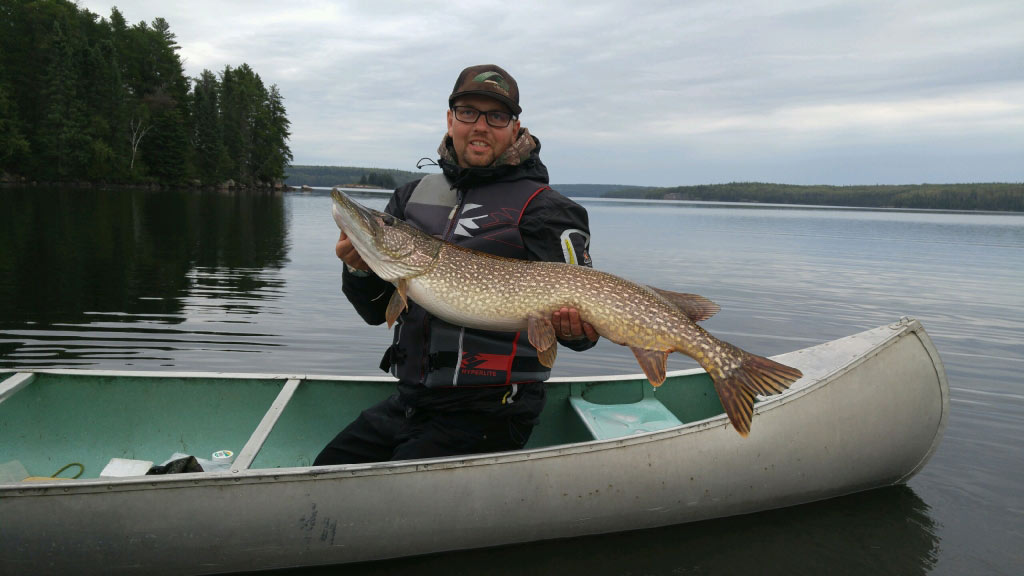 TIP:
Fish weed lines – especially by sand beach areas but also around reefs, islands and back bays. Note too that they are often caught with large minnows while fishing walleye in deeper water. Generally speaking, the approach for northerns is similar to that employed for all-purpose Muskie Fishing.
Season Open Year Round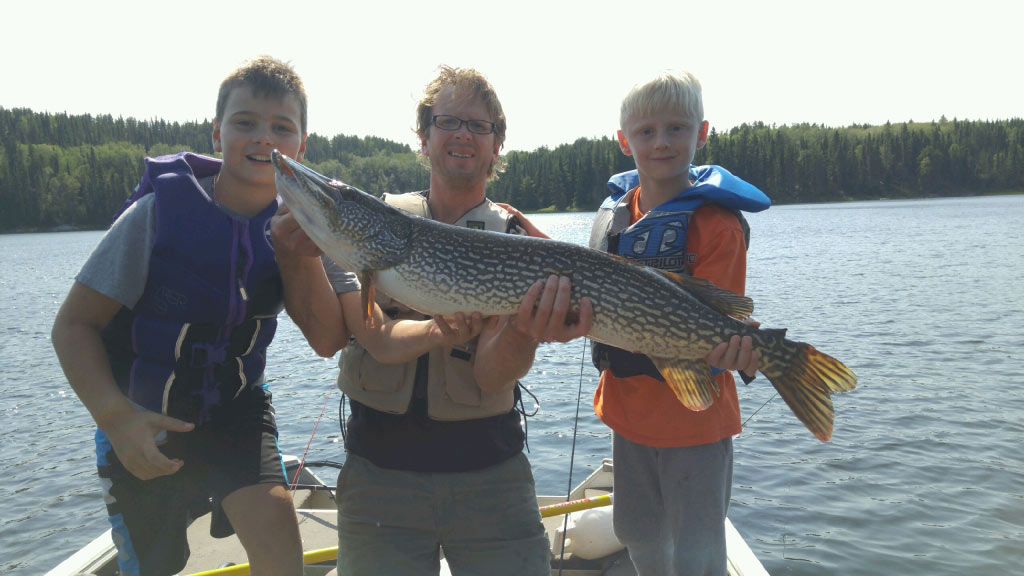 MINAKI'S BEST BASS FISHING TIPS
MINAKI'S SECRETS TO CATCHING TROPHY BASS
A world of addictive tackle and tactics to match.
TACKLE:
Bait casting or spinning rigs represent individual preference. Go expensive on the reel. Rods can be less expensive and long ML, and line is again preferential but light test fluorocarbon is worth debating.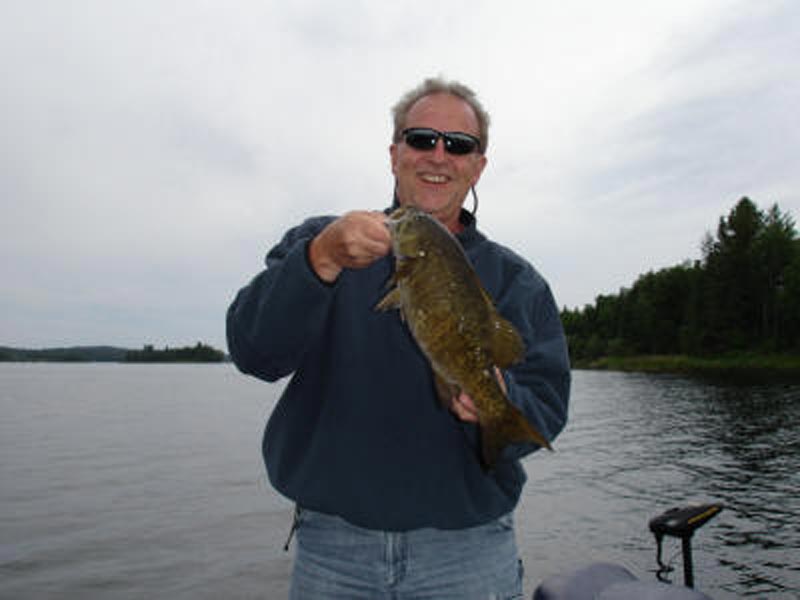 Lure Presentations:
All manner of jigs and hook-weighted "Critters" – tubes, swim baits, craws, grubs, worms, frogs, shads, flukes. See Bass Pro Shops Tournament series selections, Berkley Havoc Series, Gene Karew and Luck "E" Strike choices. Fish 3 to 4 inch Yum Dingers in shallow with a Wacky hook stabbed in the middle, no weight. Spinners such as Mepps and Blue Fox #2 #3 #4 (plain), Spinner Baits by Kevin VanDam and Buzz Baits by Booyah and – Beetle-Spins for Steve add up to choice magnifique. Crankbaits : Fish Luck E Strike RC STXJerkbait (ball bearings) see Tackle Warehouse or X-Raps Topwaters: Poppers, Chug Bugs. Live Bait: Fish leeches on Drop-Shot rigs or Slip-Bobber fishing with 1/16th oz. jigs.