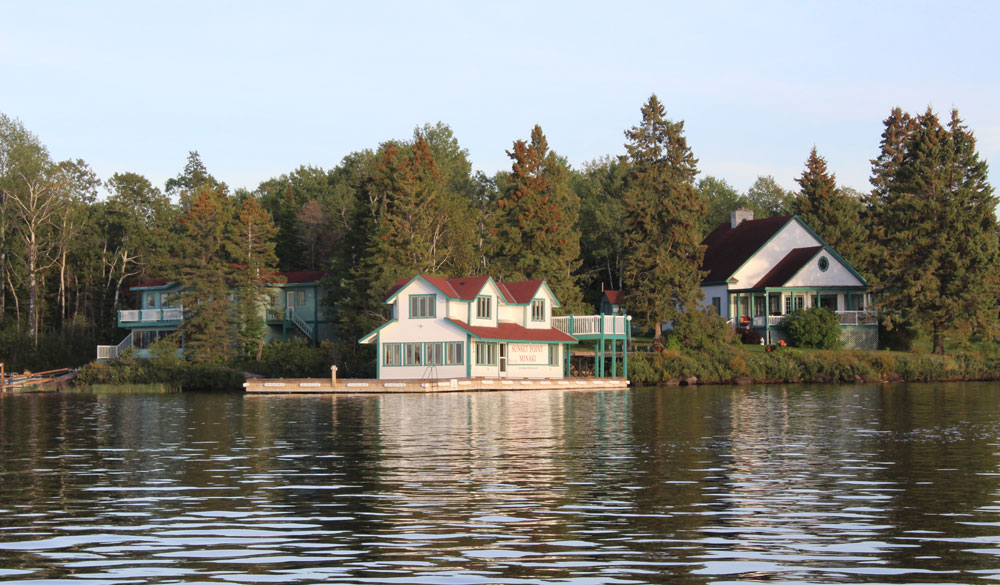 CABIN & COTTAGE RENTALS MINAKI, ONTARIO
MINAKI'S PREMIUM FISHING RESORT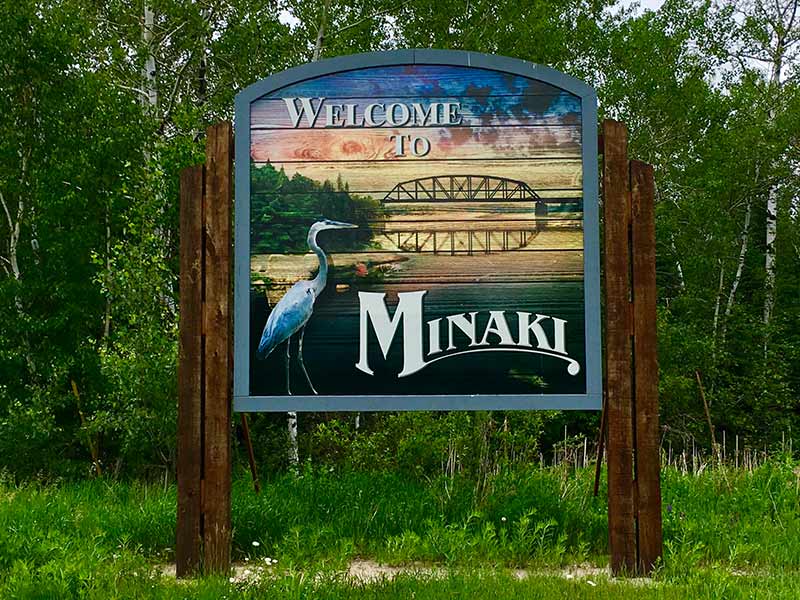 Sunset Point Minaki is a favorite vacation destination located in Northwest Ontario's Lake of the Woods District, providing the best of times for outdoor adventurers and sport fishing enthusiasts. Just 35 miles north of Kenora Ontario, Sunset Point Minaki is strategically located on the banks of the Winnipeg River; adjacent to the town of Minaki Ontario. Our large, private, waterfront resort property is surrounded by tall timber, pristine lakes, and is the ideal Holiday Resort location to start your daily adventures. Our five Top Rated modern and comfortable cabins come with all the amenities including fully equipped modern kitchens, satellite TV and Internet as well as boat access, private docks and waterfront views backed by tall timber.
Each country cabin faces the northwest capturing the daylight views of alluring sparkling waters brushing against bright blue skies. As evening calls capture every spectacular sunset, illuminating the surrounding skies and reflecting the natural beauty of what many of our guests have called Heaven's Gate.
Sunset Point Minaki is recognized as a favorite gateway to the outdoors for fishing enthusiasts, sportsmen, boaters, adventurers, hikers, naturalists, bird watchers and water worshipers. Whatever your connection to nature, you will find it here. Quiet… relaxing… out of the way… accessible by a five minute boat-in from our secure paved parking and boat launch facility in Minaki. We are approximately 2 ½ hours from the border crossing – International Falls Minnesota.
Sunset Point Minaki's great location, modern cabins and amenities, affordable rates, and easy centralized access to all our lakes and rivers makes Sunset Point Minaki the best place to experience your trip of a lifetime.
So much so that many of our guests choose to relive their adventure and return every summer!
Your hosts, the Akins/Hunter family look forward to having you as their guests.
---
Kery Krebs has been visiting Minaki for the better part of 30 years.
"I'm that kind of outdoors guy that just loves to be on the water and when you find a great place to stay well then you just keep coming back.
I usually head up to Sunset Point from my home in Illinois at the start of Walleye season for a couple of weeks and then make my way back to Mecca in mid September for fall fishing.
Sunset Point's fishing resort and cabin rentals is a great place to stay and is centrally located to Walleye ,Bass ,Perch ,Crappie Northern Pike and of the our biggest predator the Giant Muskie.
I highly recommend Sunset Point Minaki."
---
MINAKI'S PREMIER FISHING RESORT FEATURED ON THE OUTDOOR JOURNAL RADIO
Recently Minaki's Sunset Point was featured on The Outdoor Journal Radio. With over 100,000 weekly listeners, host Angelo Viola and his guests take you into Canada's Wilderness and share their experiences as Canadian Outdoorsman and Wilderness Enthusiasts.
Listen live every Saturday at 8:05am Eastern Standard Time on Sportsnet 590 in Southern Ontario or visit their website www.odjradio.com for their latest podcasts.
Below we have provided some of the clips from the Go Fishing Segment with Allan Akins from Sunset Point Minaki. During the interview with Allan, hosts Angelo Viola, Steven Labadie, Derrick Brandao and Mark Baffo discuss the history of Sunset Point Fishing Resort and Minaki from the early 1900's to present day. And to the listeners they explain why Northwest Ontario and Minaki are a must Vacation Destination for families who love the outdoors.
Listen below to get more information about booking Cabin Rentals with Sunset Point.
---
---
WHY VACATION AT SUNSET POINT MINAKI?
BEST CABIN & COTTAGE RENTALS IN NORTHWEST ONTARIO
Recognized as one of the Best Places to Stay in the Minaki and nearby Kenora Region, our comfortable cottage rentals feature a fully functional kitchen and tasteful furnishings which are paired with all modern appliances and are fully equipped for easy living. Your cabin rental comes with full amenities including Wifi and satellite TV, linens, towels, pillows, fans, heaters and a gas BBQ. Plus, a rarity in cottage country, a four piece bathroom with a rejuvenating full flow shower!
Your Cottage's waterfront sunset view, private dock with battery charging station, and well-manicured lawns & tall pines, give you the comfort and serenity no other wilderness paradise can offer.
A Great Fishing Resort offering good value, located on a superb property and ideally centralized for your best on the water vacation.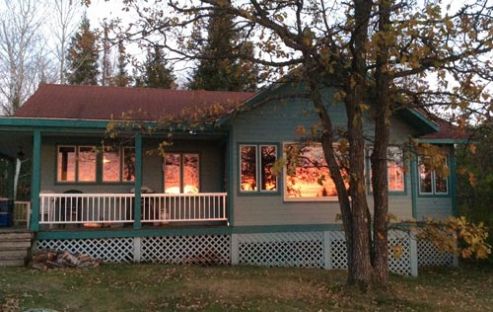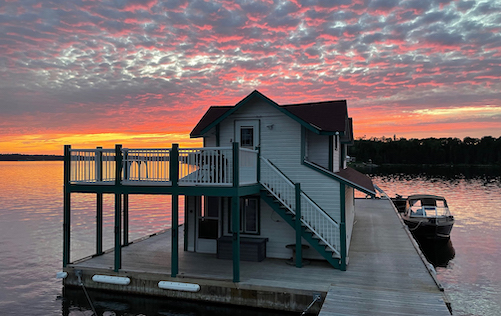 ---
MINAKI'S TOP VACATION RESORT NEAR KENORA, ONTARIO
Location… Location… Location
Nestled in the heart of the Winnipeg River Channel, Sunset Point Minaki is located where the road ends, just 35 miles north of Kenora in Northwest Ontario. This ideal location offers a wide variety of activities for outdoors enthusiasts and sportsmen with easy water access to great fishing locations on Little Sand and Big Sand Lake, Rough Rock Lake, Pistol Lake and Gun Lake. Regardless of weather conditions, our die hard fishermen and water enthusiasts are never grounded. Using the River Channel, you will always find access to many sheltered bays and inlets to explore. Now for all you Trophy Anglers out there, the rumors are true. Northwest Ontario's best fishing is within minutes of Sunset Point Minaki.
Sunset Point Minaki is conveniently located just a short three minute boat trip across the river to the town of Minaki and all your basic amenities.
Fishing Gear & Live Bait
Full Service Marina
Convenience Store
Beer, Wine & Liquor
Fishing Licenses
For major supplies we recommend stopping in nearby Kenora, Ontario, 30 minutes from Sunset Point Minaki.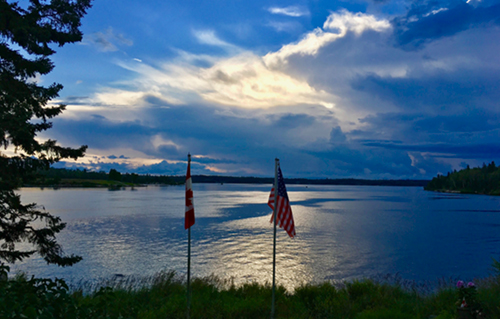 REGARDED AS MINAKI'S BEST FISHING RESORT
The Winnipeg River Channel at Minaki is the epicentre of some of the best sport fishing in Northwest Ontario. Fishing gear, live bait, boats, motors, repairs, guides, licenses, groceries and sundries are all readily available. And don't forget to bring your camera gear to capture the moment when you hook your prized Whopper Walleye, Monster Musky or Big Ass Bass.
Each week you will access our updated fishing camp reports & maps showing all the hottest honey holes to drop your line and catch your trophy fish. Our carefully managed lakes are all catch-and-release for trophy size fish so when you come back next summer… you'll need a bigger net!
For more information on our fisheries go to our Best Fishing page.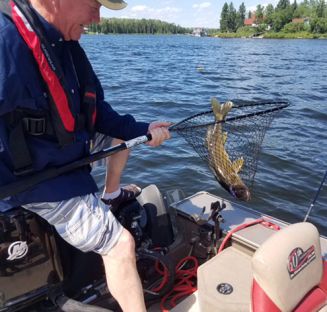 In the picture above frank Christianson helped his sister in law Teresa Bongard net a 29.5 inch whopper Walleye, right across the channel from Sunset Point.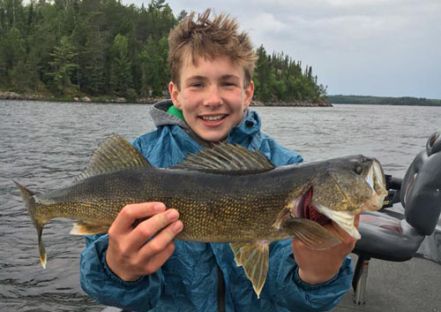 Wyatt Paffrath is one of Minaki's annual vacationers from Spicer, Minnesota. When it comes to hunting those big spring walleyes, Wyatt is one of the most dedicated and knowledgable young fisherman for the Big Sand Lake and Lake of the Woods fishing locations.
---
MINAKI'S TOP 10 ACTIVITIES
In addition to sporting world class fishing grounds, Sunset Point Minaki is one of the Kenora Area's best family vacation spots. The modern, comfortable and well-equipped lakefront cabins are a perfect launching pad for your family's outdoor adventures.
FAMILY ACTIVITIES IN MINAKI, KENORA REGION:
Trophy Fishing for Muskie, Walleye, Bass & Pike
Water Skiing, Kayaking and Canoeing
Hiking and Site Seeing
Swimming and Sunbathing on Sandy Beaches
Picnics and Cook-Outs
Afternoon & Sunset Cruises
Berry & Mushroom Picking
Wildlife & Landscape Photography
Rainy Day Activities: Board Games, Satellite TV, Internet…
Day Trips to Kenora
Visit our Activities page to see why Sunset Point Minaki is one of the Kenora Region's top rated family vacation destinations.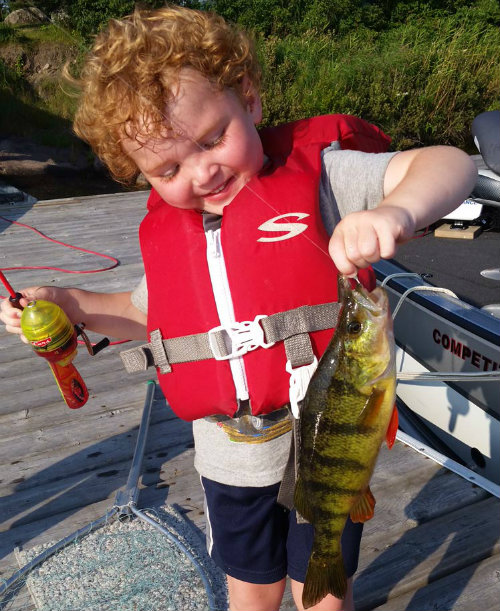 Experience first hand all of the fun and excitement that comes with a Sunset Point Minaki vacation. A Sunset Point lakefront cabin rental gives you access to unlimited family fun, and adventure.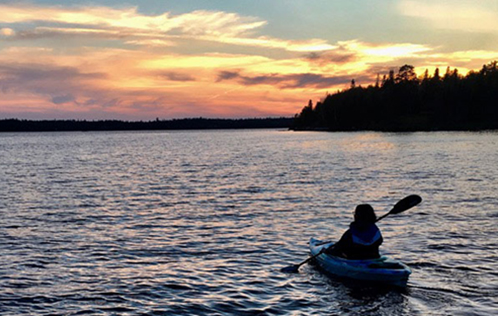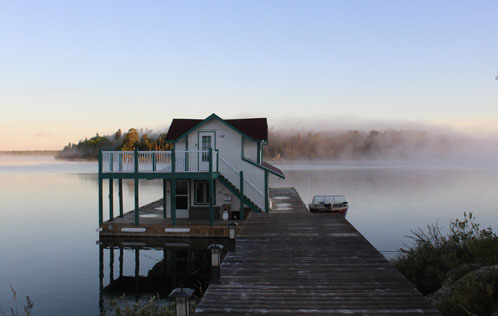 ---
SUNSET POINTS WATERFRONT CABINS ENSURE AMAZING SUNSETS

Our cottages and property offer unobstructed views of the most Amazing Sunsets and Crystal Clear Nighttime Skies. as each property faces west, overlooking the incredible beauty of the wilderness and lakes that make up our treasured Sunset Country.
Your day will never end at sunset. Now the distinct call of the loons ushers in the pure brilliance of the clear northern Canadian skies. As Venus appears, sit back, relax, and enjoy the wonders of our universe. How many of the countless constellations can you find?
Sunsets from Sunset Point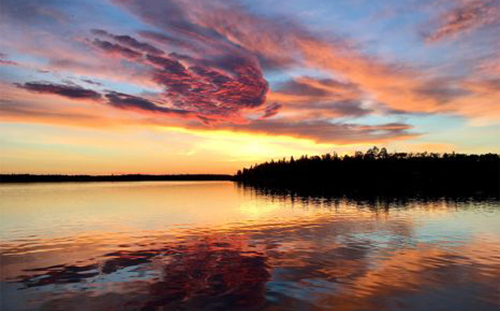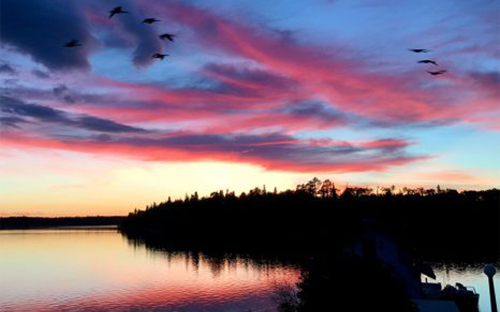 ---
Directions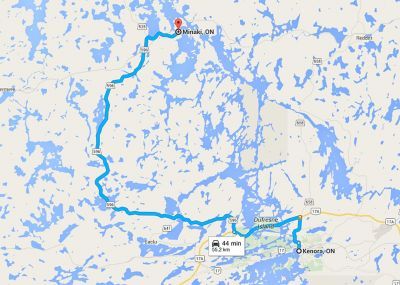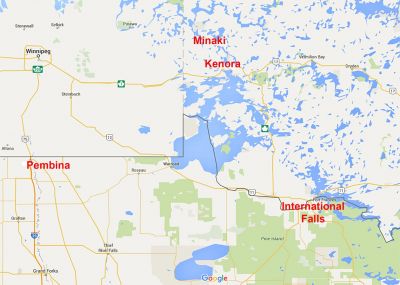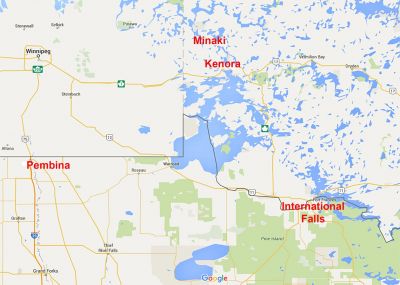 CANADIAN TRAVELERS:
Exit Trans-Canada (Highway 1 – also Highway 17 in Ontario) to Highway 596 and proceed to the outskirts of Minaki, turn left on Abby Road, Sunset's private road (by the radio tower and opposite Gunn Lake Road) proceed 500 yards, across the CN main line railway tracks to Sunset's private paved parking lot and boat launch site, less than 5 minutes boat-in to Sunset Point Minaki.
AMERICAN TRAVELERS:
Access points for the Canadian Border include the I29, which brings you to the Manitoba/North Dakota Border, near the townships of Emerson (MB) and Pembina (ND). Or try the Minnesota Hwy 71 which brings you to the Border crossing located on the Ontario/Minnesota Border, near the townships of Fort Frances (ON) and International Falls (MN).
DISTANCE TO MINAKI FROM MAJOR UNITED STATES CITIES
Click the names of the cities for the Google Map.
Important links to review