KENORA & NORTHWEST ONTARIO – THINGS TO DO
Kenora is just 35 miles from Sunset Point, and is the commercial and cultural hub of the Lake of the Woods region.  Consider a day trip to Kenora to visit the unique landmarks and gift shops, museums, or enjoy a guided tour of Lake of the Woods.
Below are some of the unique places that showcase the heritage and culture of this Sunset Country region.
---
KENORA – BOATING EXCURSIONS
It's not just about fishing. Lake of the Woods has some of the regions most breathtaking scenery and a great way to experience this area is with a guided tour.
M.S. Kenora – Kenora, Ontario
The M.S. Kenora Cruise Ship docks at the Harbourfront in Kenora. Take a luxurious trip to view all the sights of the northern Lake of the Woods regions or enjoy a fun filled evening dinner cruise.
Address: Bernier Dr, P.O. Box 741, Kenora, Ontario, Canada, P9N 1S4
Sailing Lessons and Day Cruises – Kenora, Ontario
Always wanted to learn to sail? Sail Kenora offers sailing lessons for beginners and for certification. They also offer a full day couples cruise on Lake of the Woods where you get the hands on experience of sailing the craft while enjoying the beauty of the lake.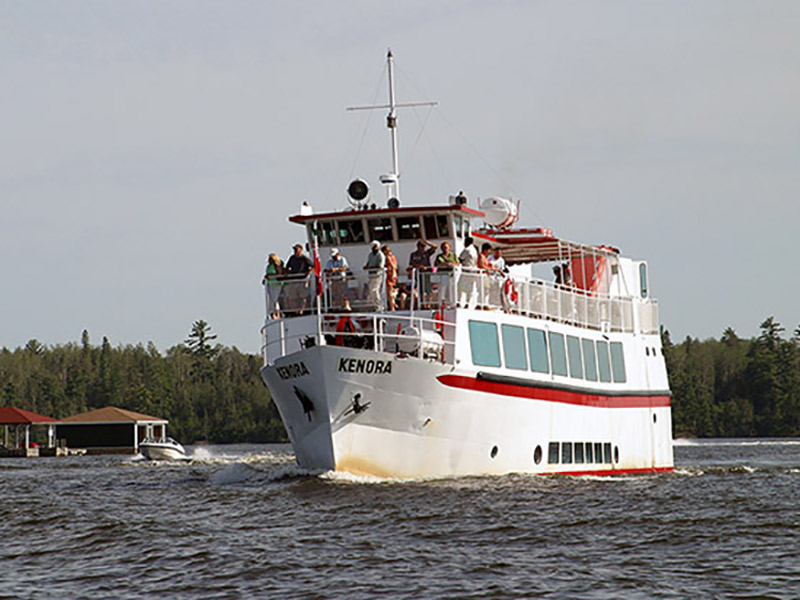 ---
KENORA – ATTRACTIONS
Matiowski Farmers Market – Kenora, Ontario
Each Wednesday, located in the Whitecap Pavillion, Kenora boasts one of the biggest farmers markets in Northwest Ontario. With over 100 vendors, individuals are able to purchase crafts, produce, baked goods, unique gifts and artifacts. Visit Tourism Kenora for more information.
http://tourism.kenora.ca/special-events/matiowski-farmers-market/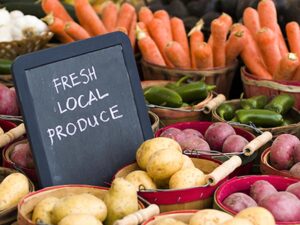 The Blue Heron Gift Shop – Kenora, Ontario
The Blue Heron Gift Shop is an experience you don't want to miss. Located in an old Fish Plant, this unique gift shop has many things to offer every local cottager and visitors alike. Starting with snacks, toys, clothing, antique furniture, dishes and so much more; this is a must see gift shop!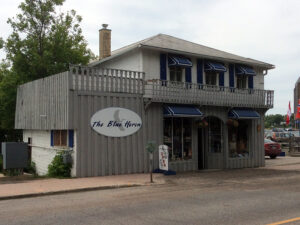 Bottle Glass House – Redditt, Ontario
The Bottle Glass House can be found 20 minutes north of Kenora in Redditt. The house was built as a doll house for Myrtle Deverall in 1970. It was constructed with 15,000 glass bottles and still contains Myrtle's amazing doll collection.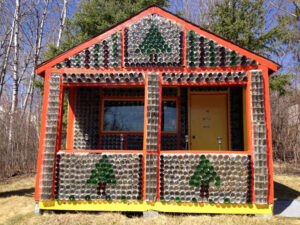 Ye Old Chip Truck – Kenora, Ontario
As the Original Chip Truck in Kenora, Ye Old Chip Truck is famous for its' fresh chips! All across Canada and the United States, people come back time and time again for their fix of these salty, vinegary, fresh cut french fries. Definitely a staple and must see when visiting Kenora.
http://www.yeoldechiptruck.com/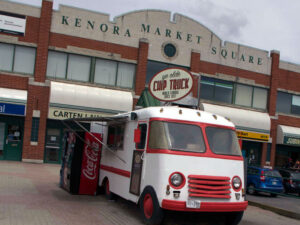 Elizabeth Campbell Books – Kenora, Ontario
If you are looking for unique books, this is the Bookstore for you! With over 50,000 books to choose from, Elizabeth Campbell Books will have what you need to relax by the beach, on the boat or in your cabin. Open Monday to Saturday during the day.
Lake of the Woods Museum – Kenora, Ontario
Established in 1964, the Lake of the Woods Museum is recognized as one of the best small museums in Canada. The museum features many outstanding artifacts and displays that exemplify the heritage and culture of the Lake of the Woods Region.
http://www.lakeofthewoodsmuseum.ca/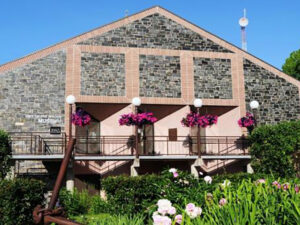 Lake of the Woods Discovery Centre – Kenora, Ontario
The Discovery Centre located on the harbourfront in Kenora, is the heart of local tourism. It has a wealth of information for tourists and locals alike and features many displays and an outdoor interpretive forrest.
Lake of the Woods Discovery Centre
Address: 931 Lakeview Dr, Kenora, ON P9N 3P8
Lake of the Woods Arts Community (LOWAC) – Kenora, Ontario
LOWAC is a not for profit organization of local artists from many disciplines. Formed in 2008, their purpose is to support and develop the arts in the Lake of the Woods region. They host many events throughout the year so check out their website and see what's happening during your stay at Sunset Point Minaki.
Gallery Z – Kenora, Ontario
Gallery Z features many works from local artists with an emphasis on watercolors and the local area lakes and landscapes. Following is a link to an article about this impressive new gallery. Below is a link to a reiew of the gallery in the local Kenora newspaper.
kenora-artist-reopens-gallery-on-lakeview-drive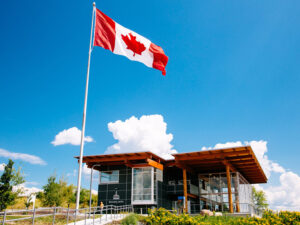 Mather-Walls House – Kenora, Ontario
The Mather Walls House was built in 1989 by John Mather who immigrated from Scotland in 1857. The home is a fine example of the Queen Anne style and was designed by Winnipeg architect George Brown. The house is home to the lake of the Woods Historical Society and includes interpretive displays from the era and hgihlights the impact that the Mather family had upon local society.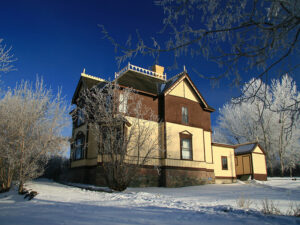 ---
NORTHWEST ONTARIO & KENORA – LANDMARKS
Kenora and Lake of the Woods feature some amazing natural and man-made landmarks. Some of the most popular are listed below.
Husky the Muskie – McLeod Park in Kenora
Husky the Muskie, a nationally recognized 40′ tall sculpture of a muskellunge fish, was sculpted by Jules Horvath amd Bob Selway in 1967. Husky has appeared in a number of well know movies.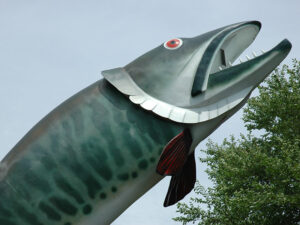 Spirit Rocks (Aboriginal Pictographs)
Dating back as far as 5,000 years, these ancient murals were painted by aboriginal peoples using berry juice and sap. The pictographs can be found throughout the Lake of the Woods and most are only accessible by boat. Spirit Rocks are considered sacred by native peoples.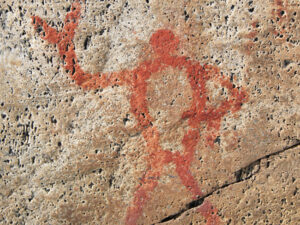 Tug Boat James McMillan – McLeod Park in Kenora
This refurbished tugboat was named after James McMillan, a decorated veteran of the first world war. The tug boat gives visitors a view of the history and use of tugboats in the early years of the logging industry.
---
NORTHWEST ONTARIO'S HIKING & WALKING ECO TOURS
Lake of the Woods is a hikers paradise with a surprise around every bend in the trail. Extensive trail networks across the region offer everything from a relaxing stroll to a challenging adventure. Review the trail guides below and choose your journey through Sunset Country.
---
KENORA – GOLFING
There are two golf courses in the Lake of the Woods region near Minaki so you never have to go without your golf fix.
Kenora Golf & Country Club – Kenora, Ontario
This challenging 18 hole course is accessible by land and water. Amenities include Driving Range, Pro Shop, Practice Green and Restaurant.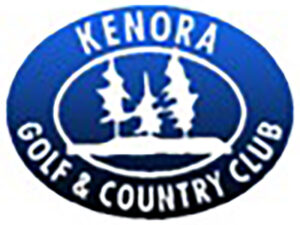 Beauty Bay Golf Course – Black Sturgeon Lake
This is an 18 hole course on beautiful Black Sturgeon Lake just 15 minutes north of Kenora. Beauty Bay also has a Pro Shop and restaurant.